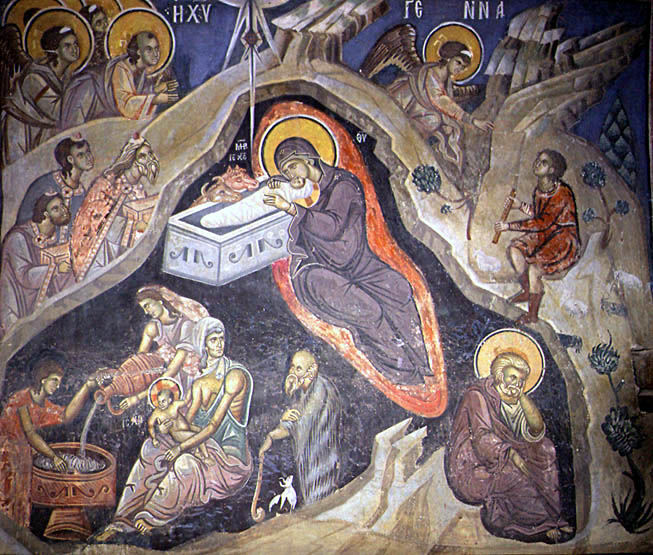 ~+~
Today (28. November) is the beginning of the fast, let it be blessed and easy. This fast is dedicated for our preparation and in glory and memory of the incarnation of our Saviour and Lord Jesus Christ. For our salvation He was incarnated, accepted a body and became Man in order to raise and save all human nature. God became Man so that man could become god by grace. This designation was given to man in heaven by God and in addition he was supposed to obey only one commandment – to restrain himself, i.e. to fast. If fasting was necessary to man in heaven in order to fulfil his designation, then it is much more needed here on this earth of torment and banishment. 
The aim of our life on earth is the transfiguration of the fallen man inside us, raising the renewed one and gaining the grace of the Holy Spirit. This can be achieved by voluntary crucifixion of the old and sinful man, by restraining and vigilance over our hearts and purifying the heart by cleansing the passions which capture us and make us captives of the devil and prisoners of death.
The fast is one of those means that directly help us in the struggle, first by neutralizing and then by gaining victory over the passions. However, it is necessary to comprehend fasting not only as restraining from certain foods in certain periods of the year. Our overall Christian life and way of existence should be a ceaseless vigil and self control until our hearts are cleansed from passions and crowned with the grace of the Holy Spirit. From that moment on it is The Holy Spirit that would teach us to keep the grace within us and achieve our designation, as was mentioned in the beginning of this sermon.
True fasting contains in itself all virtues: repentance, humility, mercy, bodily struggle and above all prayer. Fasting without prayer and other virtues is simply a physical discipline, a diet, even vanity and delusion. The fast is a virtue within the Church, therefore it has overall, catholic dimensions. In other words, we fast and struggle not only for ourselves but also for everyone else. Fasting and prayer are a great gift from God without which there is neither deification nor salvation. They are our thankful participation in the Cross of Christ, and in that way – in His resurrection. Therefore, let us love the fast and arm against our enemy.
The fasting rule is as follows: On Wednesday and Friday we fast without oil. Monks don't use oil on Monday as well, and if anyone is willing to take their rule let them ask for permission from their spiritual father. In the rest of the days oil is used, and on Saturdays, Sundays and Great Feasts we are allowed to use fish. This rule is kept by the feast of St. Spyridon – from this day on fish is no longer allowed.
Blessed be this fast and let us prepare our hearts for the Nativity of Christ. Moreover let us not forget that this rule is a general rule in our Church; each one of us is supposed to have their own rule with the permission and the blessing of their spiritual father.
Fr. Gavril Galev
Abbot of the monastery "St. Clement of Ohrid",
Kinglake, Melbourne, Australia