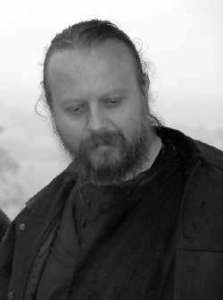 ANTINOMIANISM
(20.06.2020 15:47)
~+~
Antinomianism is a theological expression of a sacred contradiction. Antinomianism, to me, is a synonym for holiness. How else can we speak of holiness, in a completely antinomian faith, other than in a contradictory manner? Holiness, usually, in its immediate and distant contexts (surrounding), causes contradictions (controversy).
Antinomian is the faith in one God with Three Persons and one essence; faith in the Father and the Son and the Holy Spirit, but in unity which is not based on one nature, but above all, on the eternal (beginning-less) "Ipostas" (Person) of the Father, from whom the co-eternal Son is born and from whom the co-eternal (beginning-less) Spirit proceeded.
Antinomian is the creation of the spiritual and material world by the Father, Son and Holy Spirit from nothing that existed before.
Antinomian is the faith in the Only-Begotten Son of God; Who before the beginning of time is begotten of the Father, and without change in His existence; in time, was born of the Most-Holy Bogorodica (Mother of God) and Ever-Virgin Mary. He is at the same time true God and true Man. Two natures – uncreated and created, inseparably, indistinguishable, inextricable and unchanging, united in the Identity (Person, "Ipostas") of the God-Man Jesus Christ.
Antinomian is the incarnation of Jesus Christ of the Holy Spirit; faith in both motherhood and virginity, contained in one person – in the Mother of God (Bogorodica), Mary; the Most-Holy Birth-Giver of God and Ever-Virgin. Faith in the Bogorodica who is not a goddess, but is more important than that. The One who saves us, not by Her nature, but by Her motherly position, that is, because of the newly established personal relationships.
Antinomian is the belief in the holiness of the Church of God; Liturgical congregation of sinners, but by the grace of the Holy Spirit – Body of Christ. The same Body born of Bogorodica and in-Spirited on the Holy Pentecost.
Antinomian is the Holy Liturgy – the Eucharist of the Church; where with all the saints, we entrust ourselves and one another and all our lives, through the bread and wine, unto to Christ our God, and He gives us His life, i.e. the uncreated energy of God, in the Body and Blood of Christ; where the life of Christ becomes ours, and our life becomes Christs'; where we participate in the events of the life of Christ that we have not experienced and in the events that are yet to occur – the second coming of Christ; where we partake in the Last Supper, and with the first Church of Jerusalem, and with all the faithful of all times, as well as with the Eschatological Church of the Kingdom of Heaven.
Antinomian is the gift of the priesthood; when the sinful and needless servant stands before the altar and sanctifies Christ's pure Body and honoured Blood, whilst Christ is the One Who offers and is offered, Who receives and is given.
Antinomian is our martyrdom for Christ and the true faith in Him. Millions of people have given up their earthly lives for the sake of the Kingdom of Heaven; giving up something visible (tangible), for something invisible (intangible).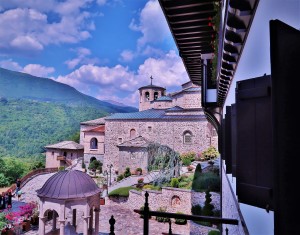 The monastic approach towards the world is also antinomian; you leave, because of Christ, all of them, and all that you love the most, because you want to love them even more, in a true and holy manner. Or, you leave, for Christ's sake, the one you care about the most, because you believe and you know that God will take much better care of him than you. This is similar to the pastoral attitude of Christians towards the world which is based on this martyrdom and monastic ethos.
It is also antinomian when the spatial and temporal (time-limited) man becomes gracefully present everywhere, both in time and in space.
Also antinomian is the situation when an ordinary man acquires such freedom before God so that he can change God's Will. The life of the saints tells us about this.
Love for your enemies is also antinomian, but this is hard to digest ("hard food"), therefore let Christ Himself speak about this:
"Love your enemies, do good to those who hate you, bless those who curse you, pray for those who spitefully use you. To him who strikes you on the one cheek, offer the other also. And from him who takes away your cloak, do not withhold your tunic either. Give to everyone who asks of you, and from him who takes away your goods, do not ask them back."- Luke 6: 27-30. "Give to him who asks you, and from him who wants to borrow from you do not turn away." (Matthew 5:42).
"But love your enemies and do good, and lend, hoping for nothing, and your reward will be great, and you will be sons of the Most High. For He is kind to the unthankful and evil. And so be merciful, just as your Father also is merciful"(Luke 6: 35-36).
"You've heard that it was said, 'An eye for an eye and a tooth for a tooth.' But I tell you, not to resist evil person. But whoever slaps you on your right cheek, turn the other to him also."
"You've heard that it was said, 'Love your neighbour and hate your enemy.' But I say to you, Love your enemies, bless those who curse you, do good to those who hate you, and pray for those who spitefully use you, and persecute you, that you may be sons of your Father in heaven. For He makes His sun rise on the evil and on the good, and sends rain on the just and the unjust. For if you love those who love you, what reward have you? Do not even the tax collectors do the same? And if you greet your brethren only, what do you do more than others? Do not even the tax collectors do so? Therefore you shall be perfect, just as your Father in heaven is perfect". (Matthew 5: 43-48).
Christian love towards your people is antinomian. Hear the words of the great Apostle Paul: "I tell the truth in Christ, I am not lying – my conscience also bearing me witness in the Holy Spirit, that I have great sorrow and continual grief in my heart; For I could wish that I myself were accursed from Christ for my brethren, my countrymen , according to the flesh, who are Israelites, to whom pertain the adoption, the glory, the covenants, the giving of the law, the service of God and the promises; of whom are the fathers and from whom, according to the flesh, Christ came, who is over all, the eternally blessed God. Amen! "(Rom. 9: 1-5).
The condition of the Macedonian Orthodox Church – Ohrid Archbishopric is also antinomian. Well, this is so easy that even a first grader can tell you. MOC-OA went through the same path to autocephaly as all other local Churches, we went through even more sincerely than others – yet, unlike them, MOC-OA already had a recognized canonical status of independence before declaring autocephaly, however, those same, the so-called canonical Churches, do not want to officially recognize the autocephaly of MOC-OA. Church maturity for autocephaly is more recognizable in the self-proclamation – but from the state of independence than when someone declares it for you or buys it for you – from nothing.
MOC-OA is accused of ethnophiletism by those who invented ethnophiletism, and who became ill and paralysed by that disease – there is no-one to tell them that their accusation is a projection of the spiritually fallen. They demand following (respect) of the canons and they themselves have been under anathema for many years because of the transgression of the holy canons. They demand repentance, that is, change of mind from us, those who do not even know that repentance (change of mind) essentially means prayer of the mind in the heart; Admittedly, if there is an excuse for them, you cannot even meet someone alive in their Churches who talks or writes something about the prayer of the mind in the heart. They are trying to preach something to us, those who are even rarely heard (paid attention to) at their own home.
They want to ensure the physical unity of the Orthodox people, and at the same time consciously destroy the spiritual unity. Some of them deny the Spirit in us, and they put themselves in the queue – to have unclean spirits driven out of them. They have declared us a cut-off and withered branch, and all the Churches use our fruits (monasticism). They work all this time to divide us, and they only strengthen our unity.
Christ invites us to be one as He and the Father are, they call us to be one like them – but under them. They talk about universality (catholicity), and they do not serve liturgy with each other. One does not know whether to help them to be saved or to run away and to save himself from such? They are so comical that you should cry for them. etcetera, etccetera, feel free to add to this, their nonsense has no end for now.
One should simply ask himself; what is better – to have union with them or not? There is nothing more antinomian than this! But "All who desire to live godly in Christ Jesus will be persecuted" (2 Tim. 3:12); so, nothing new. But let us not overlook the fact that physical persecution is infinitely less than the "spiritual" persecution and genocide that is now being perpetrated on us. Did they not realise that He is the One who says: "If you have done this to one of the least of My brothers, you have done it to Me" (Matthew 25:40), then and now in our case?
Even still, they wonder, why do they suffer all the time? That is, why do we all suffer together?
If someone is questioning whether I am serious in the last paragraph or I am joking with someone, let them know that there is no such dilemma; I am antinomian – with demons. And those who are under their control will make themselves manifest later.
It is also antinomian our response to everything they do to us. We accept that which they are doing to us as their question directed to us: "Do you love us?" as a test of our spiritual maturity. In response we could, and should, have shown more; and on this questioning we did not convince them much – not all of us and not all of them. Certainly, it depends only on them what they want to see in us. However, our ecclesiastical maturity for autocephaly was not in question here, we have proved it to them; at least in comparison to them. The recognition of Our Church has only become a matter of time.
Most-Holy Bogorodica (Mother of God), save us!
Metropolitan of Strumica Naum