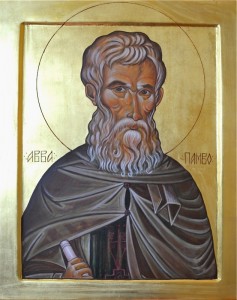 ~+~
Abba Pambo
Blessed Pambo also lived on Mount Nitra a teacher of the Episcope Dioscorus, of the brothers Ammon, Eusebius and Euthymius, and of Origen, a relative of Dracontus, a wonderful and glorious man. Pambo had many various virtues and superiorities, but among his great virtues, this virtue in particular stood out: the great despise for gold and silver, as required by the word of the Lord.
Blessed Melania told me: "Soon after my arrival from Rome to Alexandria, after hearing from Blessed Presbyter Isidore (the host) about Pambo's virtuous life, I went to him in the desert together with Isidore, and brought him a box of seventy-five ounces of silver. I asked him to receive this property of mine. And he, sitting and knitting palm branches, blessed me only with a word, and said: "May God reward you." Then he said to his disciple Origen, "Take this and distribute to the brothers who live in Libya and on the islands, because those monasteries are poorer than the others." And he commanded him not give any from those money to the brethren that lived in Egypt, because their land was more fertile than the rest. I, on the other hand – said Melania – stood and waited for him to honour me with a blessing, or at least to say a word of praise for such a gift, but when I heard nothing from him, I said to him: "You should know, sir, because here are seventy-five ounces of silver. He did not raise his head even after that, but answered me, not even looking at the box: "Child, to the One, to whom you brought it, there is no need to tell Him how much it weighs, because He has already measured it up and set the measure, and He knew the weight of this silver much earlier. "If you had given it to me, it would have been good for you to tell me the quantity of it, but if you brought it to God, Who did not reject the two coins, but valued them more than all other gifts, then be silent and be calm." This is how the grace of the Lord worked – said Blessed Melania – when I came to this Mountain. Soon after, this man of God fell asleep (passed away), without sickness and without physical suffering. He knitted a basket and sent monks after me. And when he knitted the last branch, he said to me: "Take this basket from my hands, as a memory from me, because I have nothing else to leave to you." He pass away in his seventies, without disease, surrendering his spirit to the Lord. After wrapping the Saint's body in a thin cloth and placing it in the tomb, I left the desert; and I will keep the basket until my death. "
Among other things, this deed of Saint Pambo is told: Once the blessed Pior, the Ascetic, came to him, carrying his bread. And when Pambo rebuked him: "Why did he do that?" Pior replied: " So as not to burden you." Pambo parted with him, saying nothing. After a while, the great Pambo went to Pior's cell, bringing with him already moistened bread. Asked why he moistened the bread, Pambo replied: "I soaked it in water, so that I would not burden you."
It is said that at his death hour, Pambo told this to the presbyter Origen and the economist Ammon, notable people standing by his death bed: "Since I came to this place in the desert, built this cell and moved into it, there in not even one day that I have missed without working with my hands, nor do I remember ever eating unearned bread, nor as a gift from someone else. I do not regret a single word I have said so far. And thus I go to God, as if I have not yet begun to serve Him."
The servants of Christ, Origen and Ammon, testified and told us this about Abba Pambo: "When asked about something from the Holy Scriptures, or something else, he never gave an immediate answer, saying that he had not yet found an answer. Often three months would pass , and he still would not answer, saying that he still did not know what to answer. He, because of the fear of God, was very careful in his answers, so that his answers were received with great awe, as answers from God Himself. With this virtue, that is, the precision in the word, they were saying that he surpassed all the saints, even Anthony the Great.
Publisher:
Deaconry
Skopje, 2002
Editor-in-Chief: Metropolitan of Bregalnica Agathangel