Father Gavril, from the Lesnovo Monastery, was a great consolation to the few true Christian communities (Christians with their own spiritual father, with a rule for spiritual struggle, who regularly fasted, confessed and received communion), who at that time, from 1983 to 1987 (the years we spent together), in R. Macedonia were scattered like small oases of salvation in the desert of atheism and Christian nominalism (Christianity only by name). As far as I remember, such communities existed in Skopje, Prilep, Strumica and Tetovo. If I have left someone out, may they forgive me.
With what I have written, I would like to share with you some advice and moments from our life together with Father Gavril in the Lesnovo Monastery, as well as from his rare visits to Skopje.
God always sends consolation to His people, just as Father Gavrill was to us at that time. Each time brings its own difficulties in fulfilling God's commandments and in spreading the word of truth, but also it brings its own reliefs. I would not go into the comparison of the conditions then and present conditions, but one thing is certain – The tradition of true faith and true works is one and the same, then and now. This twofold Tradition, on a personal-catholic (universal, congregational) level, comes down to the prayer of the mind in the heart – "Lord Jesus Christ, have mercy on me", and on a catholic-personal level comes down to a concrete and living, compassionate participation in the Eucharist of the Church.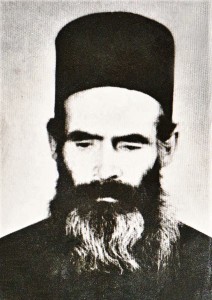 A true bearer and witness of this Tradition was Father Gavril. We are certainly, particularly interested in his teaching on the prayer of the mind in the heart – the key to the door for essential entry into the overall Tradition of the Church. He witnessed and conveyed his struggle (great effort) of the prayer in the heart, both in deed and in word.
For example, if, by chance, I came across him on the street in Skopje, when he came for the night vigils that we organized once a month in the church of "St. Petka", I had to approach him and address him by name, because he walked with his head down and he would not take notice of anyone on the street – being dedicated to the prayer. From him I first learned about the prayer of the mind in the heart ("Lord Jesus Christ, have mercy on me"). During my first visit to the Lesnovo Monastery, he said to me: "Keep saying in yourself or out quietly the prayer 'Lord Jesus Christ, have mercy on me', and think of nothing else." We can hear these sort of words only from a person with experience, because according to the logic of this world, it is not possible for a person to constantly pray without thinking of anything else.
Today, we also, according to our strength, convey the same Tradition of God – the God-Man Jesus Christ. We explain to our monks that the place of the heart in which the mind descends to create the prayer is, in fact, the "last (least) place" of the Holy Gospel – to be servants to all. That unlike the Bishop of the Church, who should be a servant of many people, for them it is enough to become servants only of the fraternity or sisterhood of the monastery, which is not numerous. We also explain to our monks that as soon as we become a servants to everyone in the monastery, that is, as soon as we sit on the "last place", then the heart by itself opens for the prayer of the mind in the heart and the place of the heart becomes known to us forever. Then, the prayer struggle depends solely on us.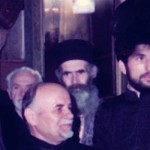 Our Holy Father Gavril was at the same time our example, and, our encouragement. He is also the messenger of the good news of the restoration of monasticism in our Church, MOC – OA. After all, this is shown by his name, given to him in accord to the name of the Herald Angel, Gabriel (Gavril)
His life was a constant fast, both spiritual and physical. During the time I was staying in the Lesnovo monastery, I never saw a difference in meals throughout the week – he called it monophagia (one/same intake of food). During the week there was only one type of food (for example, cabbage with rice), in which on the days when consumption of oil was permitted (Tuesday, Thursday, Saturday and Sunday) he would have put some oil in my plate. The monastery never had dairy products, eggs or fish for consumption. I have never seen him, personally, eat anything with oil, and greasy food (meat) was out of the question. I only remember that when he would have come to "Sveta Petka", in Skopje, for an all-night vigil, Aunt Marija (the woman who served in that church, and later became a nun) was making him tea, bread and olives – I had never seen him eat food other than that.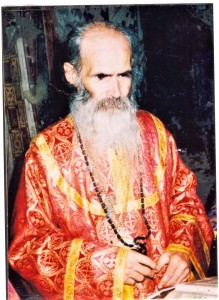 Everyone who knew him can testify that Father Gabriel was an extremely skinny man, not even the leather vest (wool inside) he wore in winter could change that impression of him. On one occasion he advised me: "If you ever decide to fast for forty days, like our Lord Jesus Christ in the wilderness, do not fast exactly forty days like Him, but only fast for thirty-nine days, lest the devil come and whisper to you that you have endured as much as the Lord, and make you become proud. "It is possible to spend the last days of fasting in bed out of exhaustion, so put a little water and bread next to the bed next to you, so that if you are alone and you get sick, you can regain your strength." Only an experienced person can say this.
Unlike some other clergymen of that time, Father Gavril allowed us to partake regularly of the Holy Mysteries of Christ. He knew from experience that: For wherever the carcass is, there the eagles will be gathered together (Matthew 24:28).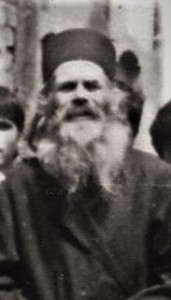 One more thing. I remember, when, at times it was very difficult for me and when I went to him for confession, he would have listen to me and without giving me any advice, he would have just wave his hand and say: "Well, that's nothing!" and indeed, all the weight I had, even the problem itself, would disappear as if taken away by hand. His word had so much power over demonic forces and over our weaknesses. Whenever I think of Father Gavril, I would say that he did not explain anything to us, and he would have solve all our problems immediately. Today, we explain all psychotherapy and spiritual struggle of the Holy Fathers to the smallest detail, but it seems that the ultimate (final) positive effect of all that, is missing in the scope in which we examine (expect) it.
If it is our wa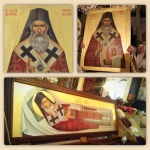 nt to do our best, the Church of God today also can bring forth holy fruits like our holy Father Gavril Velichki did; and thank God, It still brings. Our Church today knows Father Gavril as a saint. Our temples have been decorated with his frescoes and icons for twenty years. His biography and church service are written. We, who knew him, even then revered him as a saint; and we do not need any additional evidence or confirmation from anyone else of that fact.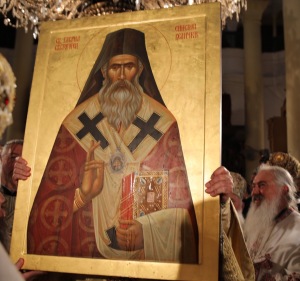 Venerable Father Gavril, pray to God for us!
Metropolitan of Strumica Naum
(11.01.2021 20:10)